2020 Chevy Silverado HD Engines

There's nothing quite like finding a high-performance heavy-duty truck with the power to tow and haul the heaviest loads on your Chicago jobsite. Naturally, the basis of every bold and confident pickup is its engine, and the 2020 Chevy Silverado HD engines make that clearer than ever. With up to 910 lb-ft of torque on both the 2020 Silverado 2500HD and 3500HD, you can easily meet your long towing trips and heavy-duty needs wherever you go. Learn more with our Badger Truck & Auto Group experts about the wildly powerful 2020 Silverado 2500 engines and the next step up to the Silverado 3500.
2020 Silverado 2500 Engine Options and Specs
When you need a real workhorse to handle your towing and hauling around Madison roads, you need a true performance engine under the hood. Luckily, whether you choose the Silverado's gasoline or diesel, your 2020 Silverado 2500 engines have the most applicable power for all your work and adventure:

The 2020 Silverado 2500 Gas Engine brings power to the fore, no matter what you're towing behind you. This 6.6L V8 Direct Injection with Variable Valve Timing Gas Engine brings you:

A 6-speed, heavy-duty, electronically controlled automatic transmission
401 hp with 464 lb-ft of torque
18,500-pound maximum towing capacity

Make a shift up into the 6.6L Duramax Turbo-Diesel V8 Engine for your 2020 Silverado 2500 HD and you'll have access to:

The Allison® 10-speed automatic transmission
445 hp and 910 lb-ft of torque
18,510-pound maximum towing capacity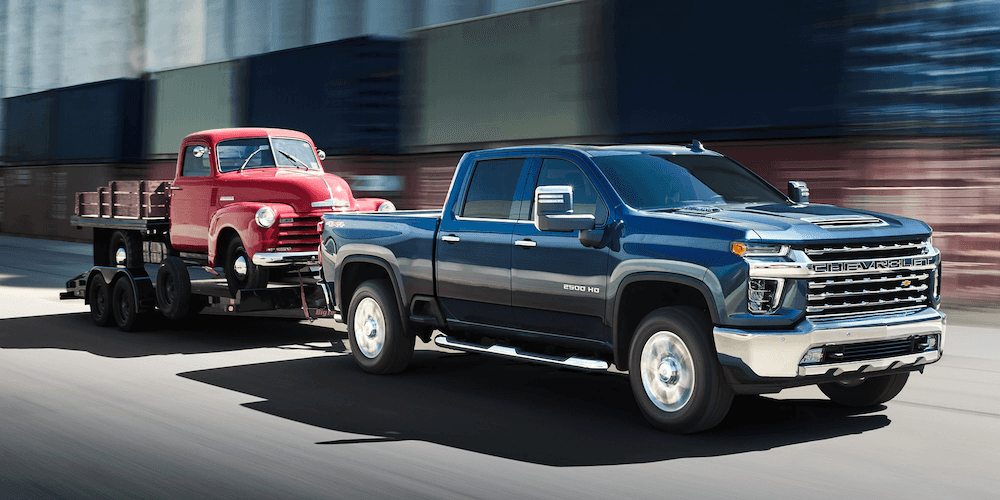 2020 Silverado 3500 HD Engines
If you're looking to access the full capacity of heavy-duty pickups, the 2020 Silverado 3500 HD is a choice selection, offering the latest features and technology to fully utilize its dynamic engine options. Wield the refined power with single or dual-rear wheels on rear-wheel drive or four-wheel drive, and reap the benefits of Chevy engineering on Green Bay roads. While you have the same engine options with the 3500 as you do the Silverado 2500, the upgrades available to the 3500 (such as the 5th wheel gooseneck package), give you a direct line to the full 910 lb-ft of torque and 445 horsepower.
Find Your Silverado With Badger Truck & Auto Group
Experts and drivers agree, there's no better way to feel the true strength and performance of the 2020 Silverado HD engines without getting directly behind the wheel. Hungry for more deep dives into your favorite trucks? Explore our model comparisons and tips and tricks, like the pros and cons of cab over engine trucks. Contact us at Badger Truck & Auto Group and take a test drive today to discover its true capabilities out in Milwaukee.
More About the 2020 Silverado HD
There's nothing quite like finding a high-performance heavy-duty truck with the power to tow and haul the heaviest loads on your Chicago jobsite. Naturally, the basis of every bold and confident pickup is its engine, and the 2020 Chevy Silverado HD engines make that clearer than ever. With up to 910 lb-ft of torque on…

The 2020 Chevrolet Silverado HD towing capacity ranges from 14,200 pounds to 35,500 pounds, depending on the engine and configuration. This new Chevy truck is as capable as they come, offering two engine options and a string of features to enhance towing performance. Learn more about the 2020 Silverado 2500 towing capacity and 3500 towing…