Introducing the 2021 Ford Mustang Mach-E Electric SUV


If you appreciate the spirit of the original Ford Mustang, then you're sure to love the all-new, all-electric Ford Mustang Mach-E SUV. This potent and striking vehicle is perfect for the efficiency-conscious drivers who refuse to sacrifice on style or performance. We'll teach you everything you need to know about the 2021 Ford Mustang Mach-E electric SUV before it arrives on the streets of Madison or Waukesha.
All-Electric Mustang Mach-E SUV Specs
We could hardly introduce the new Ford Mustang Mach-E without going over its impressive performance capabilities. Although we're still waiting on a lot of the final details, we already know that it will offer impressive power and have the ability to travel up to 300 miles on a single charge. Here's what we can say so far:
Mach-E Select
You can expect around 255 hp in this model, the baseline trim.
The Standard Range battery offers up to 230 miles of range, and you can upgrade from RWD to AWD for a 0-60 time in the mid fives.
Mach-E Premium
You'll once again choose between RWD and AWD. You'll also choose between the Standard and Extended Range batteries.
All models with the Standard Range battery are expected to offer 252 hp. With RWD and the Extended Range battery, you'll reach 282 hp.
With AWD and the Extended Range battery, power is expected to top out at 332 hp and 417 lb-ft of torque.
Maximum range varies between 210 miles (Standard Range, AWD) and 300 miles (Extended Range, RWD).
The Ford Mustang Mach-E First Edition is no longer available to reserve, but its specs are comparable. These models offer a 270-mile range, and come equipped with the Extended Range battery and AWD.
Mustang Mach-E California Rt.1
The "California Route 1" configuration is only available with an Extended Range battery and all-wheel drive.
You'll enjoy an expected 282 hp, and travel for up to 300 miles in between charges.
Mustang Mach-E GT
The high-powered Mustang Mach-E GT is only configurable with an Extended Range battery and Permanent All-Electric Dual Motor all-wheel drive.
It's expected to provide the driver with 459 hp and 612 lb-ft of torque! That's enough power to take you from 0-60 in less than four seconds–significantly faster than rivals like the Porsche Macan.
How long does it take to charge the 2021 Ford Mustang Mach-E electric SUV? Expect to go from 10% to 80% in under 40 minutes. Need to top-off on the run? Charge up to 10% for 47 miles of range, in ten minutes or less, at any one of 12,000 chargers nationwide.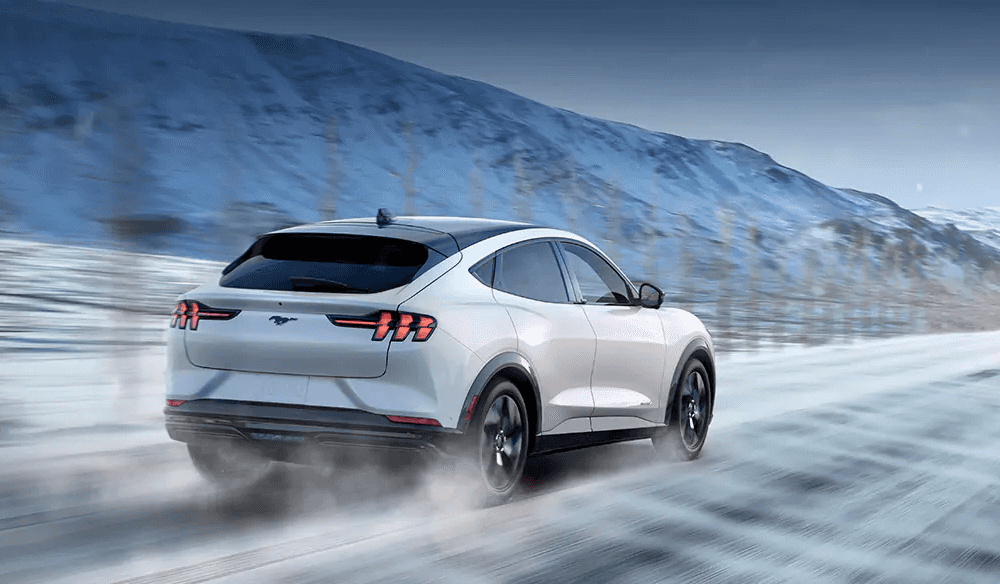 How Much Will the Mustang Mach-E Cost?

How much will the Mustang Mach-E cost with all the features you're searching for? Here's where we expect each model's price to fall when it arrives in the Chicago area:
Mustang Mach-E First Edition: MSRP starting at $59,900
Mustang Mach-E Select: MSRP starting at $43,895
Mustang Mach-E Premium: MSRP starting at $50,600
Mustang Mach-E California Rt.1: MSRP starting at $52,400
Mustang Mach-E GT: MSRP starting at $60,500
Remember, drivers who opt to pay the Mustang Mach-E MSRP may also be eligible for a Federal Tax Credit of up to $7,500. Our financing team will help you work out all the details.
We're sure you're already on the edge of your seat, but when is the Ford Mustang Mach-E release date? First Edition and Premium models are expected in Fall/Winter 2020. Select and California Rt.1 models are expected in early 2021. GT models will be the last to arrive, in the Spring of 2021.
We'll Bring You All the Updates About the Mustang Mach-E
If you're eagerly awaiting the arrival of the 2021 Ford Mustang Mach-E electric SUV, trust that the team at the Badger Truck & Auto Group is right there with you. Contact us to let us know that you want to be looped in. We'll bring you all the latest news, specs, and Mustang Mach-E vs. Tesla match-ups, and interior details as soon as we can find them. In the meantime, be sure to keep an eye on our new Ford inventory. Interested in other new Ford SUVs? Don't miss the 2021 Ford Bronco Sport.