How to Load a Trailer the Right Way

When you're pulling thousands (or tens of thousands) of pounds behind you, knowing how to load a trailer correctly can be the difference between a job well done and a very dangerous drive. Loading your trailer correctly is essential, whether you're driving a midsize truck or a heavy-duty commercial model, and the Badger Truck & Auto Group has put together a job with everything you need to know.
---
When Loading a Trailer, Where Should You Put the Weight?
If you're wondering how to properly load a trailer, there's probably one question at the forefront of your mind. If you're anything like other drivers near Madison and Chicago, you need to know how to distribute heavy loads.
So, when loading a trailer, where should you put the weight?
At least 60% of your trailer weight should be positioned towards the front end of the trailer, closer to the vehicle.
Make sure that your weight is evenly distributed between the left and right sides of the trailer.
As the front end fills up, work in lighter items closer to the rear.
If you have to stack items, make sure that the heaviest items are closest to the floor. Lighter items can go up top.
Failing to follow these guidelines can lead to dangerous trailer sway, which will impact your ability to handle and control the vehicle. Although it's always a good idea to look out for trailer sway and drive carefully, learning how to load a trailer the right way dramatically reduces the risk. Check out our heavy truck tips and tricks for more advice.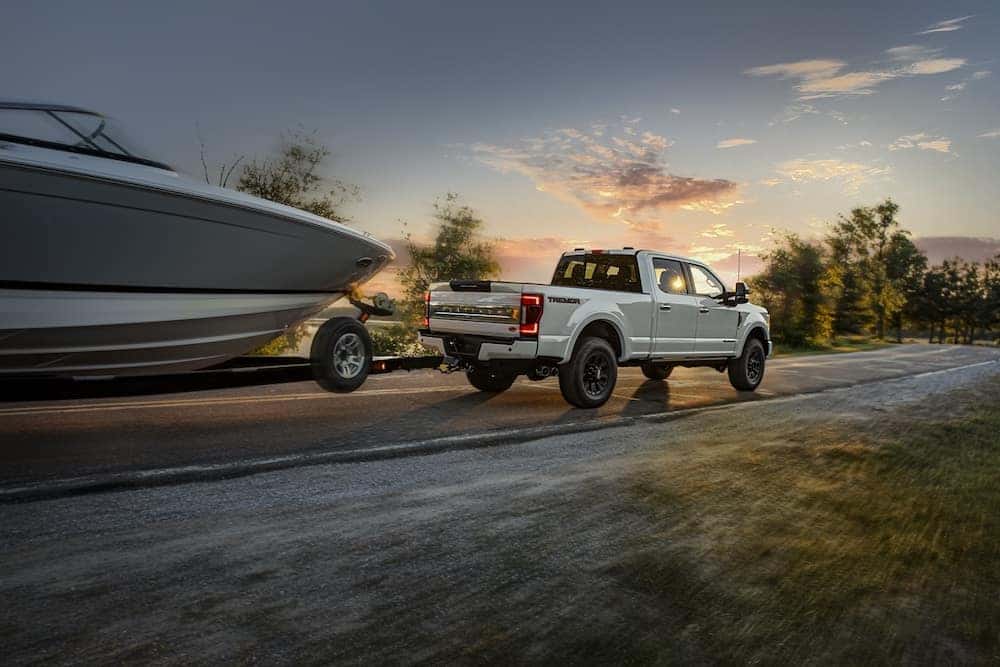 ---
The Do's and Don'ts of Loading a Trailer Correctly
Understanding how to distribute the weight in your trailer puts you on the path to success, but the guidelines above aren't the ones that you should be aware of! Here's what you need to know.
DO
Follow the weight distribution guidelines above, and remember to pack in all of your items as tightly as you can.
Make sure to tie down any heavy items in your trailer. Displaced items can easily throw off your balance, and it only takes a moment to secure the essentials.
Transporting a motorcycle or some other mobile vehicle? Always use wheel chocks and tie-downs, always face these vehicle-forward, and secure them as closely as possible to the front wall.
DON'T
Don't compromise on safety, balance, or security. Always follow the guidelines above, even if it means that you can't move quite as much cargo in one trip.
You know your base towing capacity, but do you know your Gross Axle Weight Rating and your Gross Combined Weight Rating? Don't overload your rear axle or try to pull more than your chassis can handle. You can find all important specs in the owner's manual for any new or pre-owned vehicle.
Don't carry any hazardous materials unless you are specifically authorized to do so.
Don't load items to the outside of a trailer, or let items sit half-in and half-out.
---
Let's Get You on the Road With a Properly Loaded Trailer!
Do you have any questions about loading a trailer correctly? Give us a call at (414) 344-9500 and we'll try to walk you through the steps. Need help finding the perfect model? Compare flatbed trucks vs. trailers or contact us to learn more. If you're anywhere near Chicago, the Badger Truck & Auto Group is your source for all things related to towing and hauling. We're based in Milwaukee.
---
More From Badger Truck & Auto Group
The new Chevy Silverado would stand out on any Milwaukee work site. But can it handle towing your trailer or boat? We're happy to tell you that the 2023 Chevy Silverado towing capacity is an impressive 13,300 pounds when properly equipped, and the Silverado 1500 payload capacity is nothing to sneeze at, either. What…

Milwaukee drivers get plenty of options with the 2023 Ford F-150 trim levels. Plus, with so many standard and available amenities, a gorgeous selection of colors, and different bed sizes, you can customize it to your needs. Regardless of the F-150 trim you choose, you'll be thrilled with its powerful performance and well-equipped cabin. Keep…

Chevy knows trucks, and the Chevrolet Silverado 1500 is an excellent example of an iconic pickup truck on Milwaukee streets. But which 2023 Chevy Silverado 1500 configuration is best for your budget and Chicago lifestyle? Whether you're excited about the Chevy Silverado's impressive towing capacity, payload, or premium features, we at Badger Truck & Auto Group know we have…