When it comes to pickup trucks, cab chassis trucks, and other commercial vehicles, gross vehicle weight rating (GVWR) is an important specification to know and understand. What does GVWR mean? GVWR is manufacturer-specified, and tells you the maximum operating weight for a truck. This is an important figure to know, because there are laws surrounding GVWR that vary from location to location. Below, you'll find more information on GVWR and how it's determined.
---
How is GVWR Calculated?
Years ago, gross vehicle weight rating was calculated by adding the gross axle weight ratings (GAWRs) together. Today, the process is much more involved. If you were to add the GAWRs of a truck, it's likely the sum will be much lower than the GVWR calculated by the OEM. Safety systems with automatic braking and stability control systems, for example, can reduce the GVWR. Manufacturers complete thorough tests to ensure the GVWR given is as accurate as possible. Adding the GAWRs will give you a ballpark estimate of a truck's GVWR, but the figure shouldn't be taken at face value.
---
What are the Laws Involving GVWR?
When you drive a commercial vehicle, it's imperative to be aware of the limitations surrounding GVWR, which include:
On certain roads, vehicles weighing over 6,000 pounds are prohibited. (Review the limitations in your area to make sure you're operating your commercial vehicle legally.)
Vehicles with a GVWR of over 8,500 pounds must carry public liability coverage, according to the Motor Carrier Act of 1980.
Vehicles or combinations over 26,000 pounds GVWR must be driven by a driver with a Commercial Driver's License (CDL) or a Non-Commercial Class A or B license. It should be noted that CDLs are often required for vehicles with GVWRs under 26,000 pounds, including passenger vans carrying 16+ passengers or vehicles carrying hazardous/dangerous materials.
---
GVWRs for Different Types of Commercial Vehicles
Light Duty — GVWR: 6,001 to 10,000 pounds
Class 2 (2A): Ford F-150, Chevy Silverado 1500
Class 2 (2B): Ford F-250, Chevy Silverado 2500
Medium Duty — GVWR: 10,001 to 26,000 pounds
Class 3: Ford F-350, Chevy Silverado 3500
Class 4: Ford F-450, Chevy Silverado 4500
Class 5: Ford F-550, Chevy Silverado 5500
Class 6: Ford F-650, Chevy Silverado 6500
Heavy Duty — GVWR 26,001 to 33,000 pounds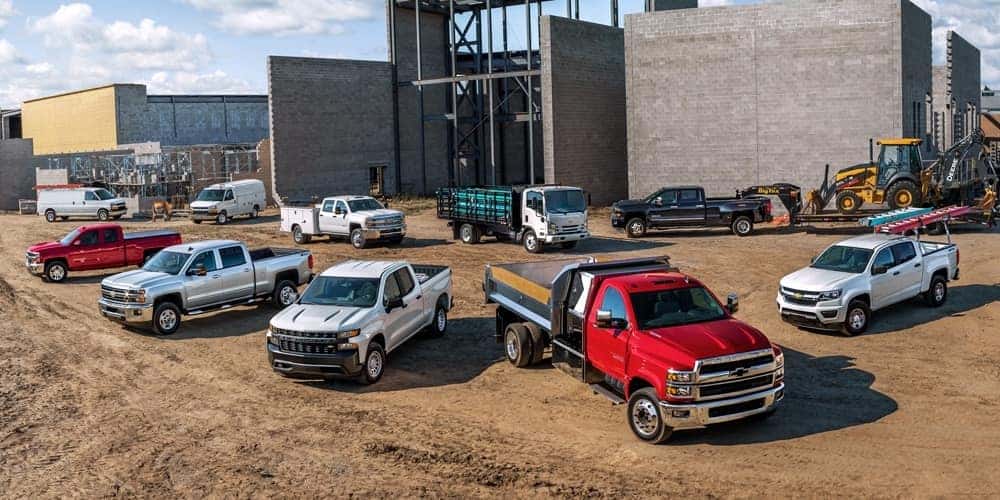 ---
Get More Information About GVWR at Badger Truck & Auto Group
Now that you know the answer to the question, "What is GVWR," it's time to start shopping for the right vehicle for your jobs around and . Contact us for more information, or visit us in Milwaukee to explore our lineup in person. Our experts can answer any other questions you might have, from "What is GVWR on a truck," to "What is axle ratio?"
---
More From Badger Truck & Auto Group
The 2022 Ford Super Duty receives an updated interior, but all of its towing and payload capacities remain unchanged from 2021. So, what is the 2022 Ford Super Duty towing capacity? It depends on whether you choose the F-250, the F-350, the F-450; however, an F-450 with a V8 diesel engine, a 4×2 drivetrain, and…

If you're on the hunt for a medium duty truck that can run roughshod over challenges on the job site, you're definitely going to want to consider the 2022 Ford F-650 specs! If you have any questions after reviewing the F-650 engine options and weight ratings we've laid out below, don't hesitate to reach out…

The all-new Ford F-150 Lightning just might be the single most exciting electric vehicle that's ever been released, and it isn't at all difficult to see why. The 2022 Ford F-150 Lightning configurations deliver impressive capabilities and high-end features, all while powering your Chicago and drives with a zero-emissions powertrain that can even serve…