A CDL is a commercial driver's license, a special permit that allows you the opportunity to drive heavy-duty vehicles and transport a wide range of materials. There are three basic types of CDLs — A, B, and C licenses — but there are also a range of endorsements that may or may not be required for the job that you'd like to do. In some cases, an employer may not require a CDL, but it may be viewed as a bonus.
Now that you've answered the question of what a CDL is, we're certain that you'll have more concerns on your mind! We've covered each of the most common queries we hear from Milwaukee-area drivers below.
---
What is the Difference Between A, B, and C Licenses?
Class A CDL: If you need to transport a combination of vehicles with a gross vehicle weight rating of more than 26,001 pounds, and the trailer that you'll be towing is more than 10,000 pounds on its own, you'll need a Class A CDL.
Class B CDL: If you're working with a single vehicle with a GVWR of more than 26,001 pounds, but you don't intend on using a trailer, a Class B CDL will be required.
Class C CDL: Even if a vehicle has a GVWR of less than 26,001 pounds, a Class C CDL will be required if the vehicle can transport 16 passengers or more, or if you'll be transporting hazardous materials.
---
What is a CDL Endorsement?
Having a CDL won't necessarily enable you to perform any task that comes to mind. You'll also need the required endorsements, which show that you're qualified to handle specific demanding jobs. Endorsements include:
(P) Passenger Transport Endorsement
(S) School Bus/Passenger Transport Endorsement
(T) Double/Triples Endorsement
(N) Tank Vehicle Endorsement
(H) Hazardous Materials Endorsement (HAZMAT)
(X) Tanker/HAZMAT Endorsement
(F) Farm Services Endorsement
Although we've covered the basic process for acquiring a CDL below, you'll want to research specific endorsements to find out what other requirements you'll need to meet. You'll also want to check out some of the commercial upfitting options that you can pursue with the Badger Truck & Auto Group.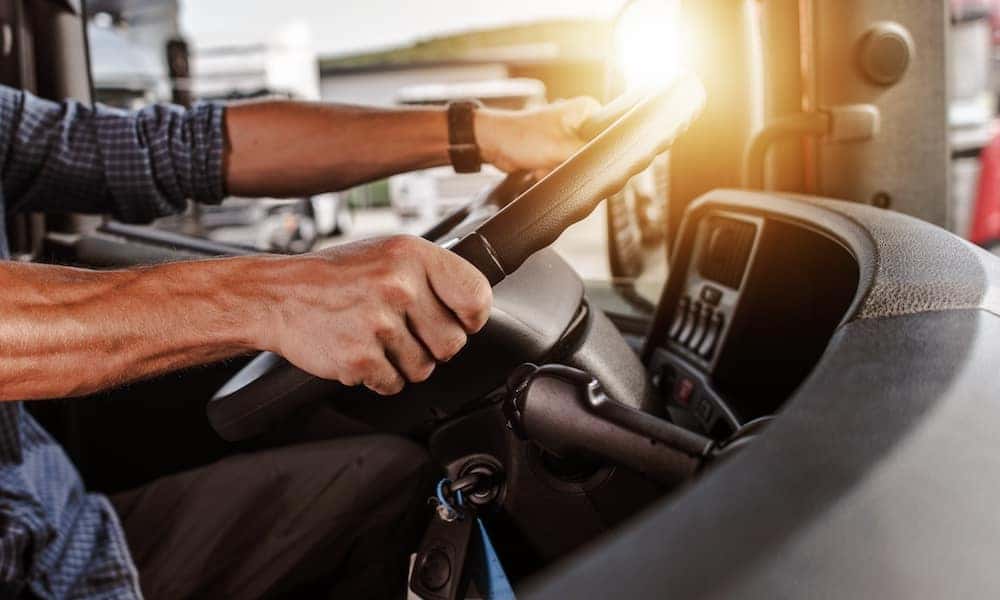 ---
How to Get a CDL in Wisconsin
Study up for the General Knowledge Test. The Commercial Driver's Manual covers everything you'll need to know, even for each of the various endorsements.
Complete the CDL General Knowledge Test at your local DMV near Milwaukee, and make sure to allow yourself at least one to one-and-a-half hours.
Obtain your Learner's Permit by completing an MV3001 driver's licence application and an MV3230 commercial driver's application, and paying the required fees.
Present identification, including a Federal Medical Card and Proof of Citizenship or Legal Status.
Within 180 days (or pending renewal), take the pre-trip test, the backing test, and the skills test.
Bring the results of your tests to the DMV and have the new classifications added to your existing license.
---
What is a CDL Going to Cost?
You could get your permit and your official license for around $100, although licensing fees can vary in Wisconsin. Read up on the fees on the Wisconsin DOT website to learn more.
---
How Long Does It Take to Get a CDL?
You only need to wait 14 days between securing your learner's permit and taking the skills tests, but a longer period of study and practice is encouraged.
Interested in securing a CDL near Chicago? Explore the CDL guidelines for Illinois drivers today.
---
We're Your Commercial Truck Resource
Whether you're near or , or if you're somewhere else entirely, you can count on our team to provide the information you'll need to drive a commercial truck with confidence. While you're here, learn more about important topics like truck classification and commercial insurance, then explore tips and tricks for making the most of your heavy-duty vehicle.
---
More From Badger Truck & Auto Group
The 2022 Ford Super Duty receives an updated interior, but all of its towing and payload capacities remain unchanged from 2021. So, what is the 2022 Ford Super Duty towing capacity? It depends on whether you choose the F-250, the F-350, the F-450; however, an F-450 with a V8 diesel engine, a 4×2 drivetrain, and…

If you're on the hunt for a medium duty truck that can run roughshod over challenges on the job site, you're definitely going to want to consider the 2022 Ford F-650 specs! If you have any questions after reviewing the F-650 engine options and weight ratings we've laid out below, don't hesitate to reach out…

The all-new Ford F-150 Lightning just might be the single most exciting electric vehicle that's ever been released, and it isn't at all difficult to see why. The 2022 Ford F-150 Lightning configurations deliver impressive capabilities and high-end features, all while powering your Chicago and drives with a zero-emissions powertrain that can even serve…