If a truck is "dually," it means it has dual rear wheels on either side. These trucks are geared toward the heavy-duty side of performance and are often referred to as "one-ton" pickups, as they can typically haul over 2,000 pounds in their beds and tow campers, trailers, and more. Usually, they're equipped with upgraded brakes, springs, and shocks for greater stopping power and a sure-footed grip. Read on to learn more about dually vs. non-dually and the models you can find at Badger Truck & Auto Group!
---
Dually vs. Non-Dually Truck: How Do They Compare?
Dually Pickup Trucks
Benefits: 
Strong towing and payload capabilities
Greater stability during towing and hauling
Ideal for fifth-wheel trailers or loads non-dually trucks can't haul
What to Consider: 
Fuel economy is usually lower than non-dually trucks
May be more challenging to park and maneuver on Chicago roads
Higher purchase price
Non-Dually Pickup Trucks
Benefits: 
More cost-effective than dually trucks
Higher fuel economy
Still ideal for towing, assuming you're towing lighter loads
Easier to handle
What to Consider:
Somewhat weaker than dually trucks in terms of towing and hauling
Less safe than dually trucks in the event of a tire blowout
---
What is a Dually Truck Good For?
Dually trucks almost always house the most powerful engines offered by the manufacturer, as they're built to haul and tow with their higher than average rear axle ratios. Many of the trailers dually trucks tow  can weigh as much as 20,000 pounds or more. Because of their strength, dually pickup trucks have a lot of uses — from construction to hauling heavy equipment and machinery to agriculture. There are virtually no limits to how dually trucks can be used on the job site.
---
What are Some Examples of Dually Trucks?
If you're shopping for a dually pickup, you have a handful of capable models from which to choose:
Ram 3500 HD Dually — maximum towing capacity is one of the segment's highest – 32,500 pounds (with the turbo-diesel engine)
Ford F-350 Super Duty — max towing capacity of 26,500 pounds with a maximum payload of 7,300 pounds
Ford F-450 Super Duty XLT — max gooseneck towing capacity of 35,000 pounds and a max conventional towing capacity of 21,000 pounds (with the diesel engine)
Chevrolet Silverado 3500HD Dually — max towing capacity of 23,100 pounds (with the diesel engine)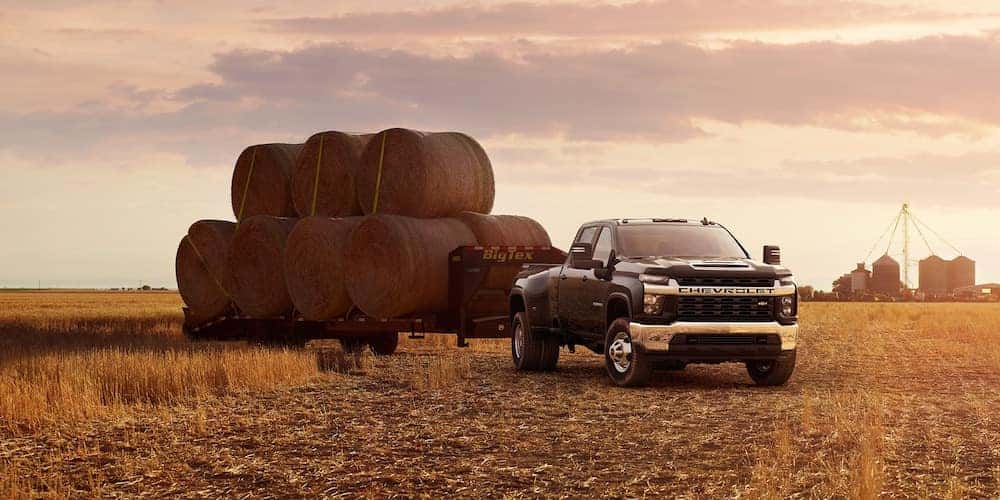 ---
Find a Heavy-Duty Dually Truck at Badger Truck & Auto Group!
Do you need a powerful dually truck for your application? Badger Truck & Auto Group can help you find the model with the features and capabilities required. Whether you're searching for gas-powered or diesel-powered pickups or a truck with a specific axle ratio, our selection is one of the largest and most diverse in the Madison and Waukesha areas. Contact us with any questions about our inventory or our Badger Heavy Truck Center.
---
More From Badger Truck & Auto Group
The Ford F-750 is the biggest truck in the Ford Medium Duty lineup, and that makes it one of the toughest trucks available anywhere in the world today—but how much can a Ford F-750 tow? In order to calculate the Ford F-750 towing capacity for your model, you'll need to subtract your vehicle's total…

The 2022 Chevrolet Silverado 1500 LTD has everything that Chicago and Madison drivers are searching for in a new pickup! Although an all-new 2022 Silverado is expected later this spring, the 2022 Silverado 1500 LTD is a great choice for the contractor or fleet operator who needs impressive capability today. Our comprehensive overview of…

The 2022 Ford Maverick towing capacity varies between 2,000 and 4,000 pounds, depending on the powertrain and packages that you select for your adventures in Chicago and Madison. Even though the Maverick is a small truck designed with city living in mind, it's more than capable of powering weekend road trips and memorable getaways….