What Makes a Good Landscaping Truck?


Choosing the perfect landscaping truck is no easy task, but it becomes a whole lot more manageable when you have the team at the Badger Truck & Auto Group on your side. After all, we're not just a great place to find new and pre-owned work trucks. We're here for you at every stage of your ownership experience, and our team of experts knows exactly what you need to take your business to the next level.
---
How to Choose a Landscaping Truck: Utility and Specifications
Before you start to narrow down your options, you have to make an assessment regarding the scale of your activities. Which of the landscape truck bodies is going to have everything you need? Unless you specifically require a landscape dump truck, a lot of your decision will come out to logistics (Where are you storing and driving your truck, for example) and preferences.
Here's what you need to consider:
Some landscaping and lawn operations might be able to get by with a conventional light-duty pickup truck. For others, a heavy-duty model will make more sense. Since fuel costs can add up quickly, you shouldn't buy a bigger landscaping truck than you actually need.
Depending on the kind of work you're doing, it may or may not be important to search for the highest available towing and payload specs. In particular, businesses that work in snow and ice removal will need to be able to handle heavy loads.
In other cases, having a spacious landscape truck bed is more important than having massive maximum capacities. Are you hauling hand tools or ridable machinery? How many members are there on your team, and what size of cab do you need?
If you tend to haul around more than one or two lawnmowers, you're landscaping massive areas, or you often have to drive on the city streets of Chicago or Waukesha, you'd be wise to consider a box truck or a flatbed truck instead of a conventional pickup truck. That's because working with one of these trucks is often easier than hooking up a trailer.
For those who desire the on-the-go convenience offered by conventional pickup truck beds, a Ford Super Duty makes an excellent choice. Looking for the perfect landscape box truck? We think you'll love what you find in our Isuzu inventory.
---
How to Choose the Perfect Landscaping Truck: Economic Factors
Should You Buy New or Used?
Buying a new truck is sure to please your team, but since landscape trucks tend to get roughed up pretty quickly, the value you invest will diminish in relatively short order.
Frequently towing at or near your vehicle's maximum capacity will tend to wear down your components more quickly. So a used work truck might have more wear and tear than a used consumer model.
Buying a used truck will save you money, but only if it isn't slowing down your operations. It's worth it to buy a newer model if you're worried about breakdowns and slowdowns that could damage your reputation.
Balancing Utility and Fuel Economy
As we noted above, fuel economy costs can add up very quickly in the landscaping business. Although you may be tempted to get the most powerful truck you can find, it's important to consider fuel consumption as well.
Since diesel trucks tend to consume less fuel and offer more impressive towing capabilities, they're favored by commercial drivers in a wide variety of industries.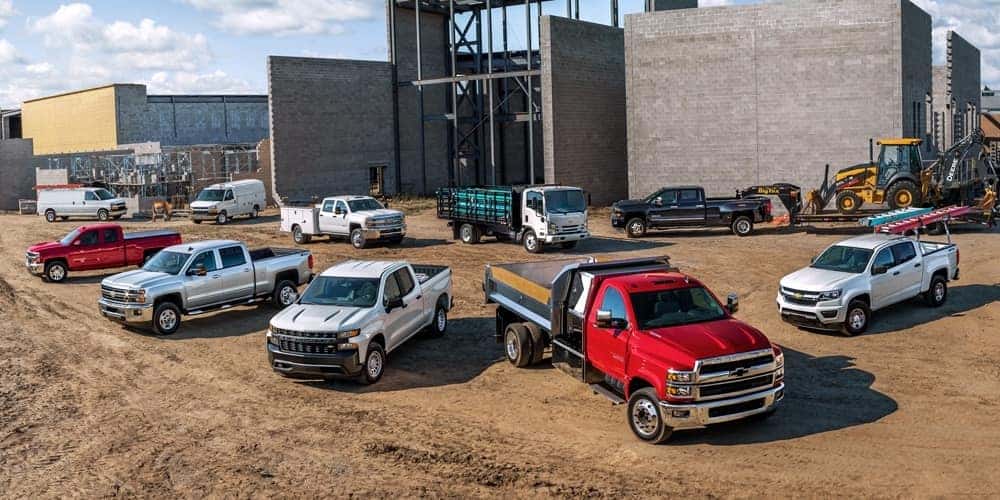 ---
You Can Find Exactly What You Need Right Here
Whether you're looking for an Isuzu landscape truck or a model from some other make, we know you'll love what you find in our new and pre-owned inventories. Visit the Badger Truck & Auto Group and talk through your work truck upfit options with one of our expert representatives, today! We'll make sure that you leave with the power to take your business to the next level.
---
More From Badger Truck & Auto Group
The Ford F-750 is the biggest truck in the Ford Medium Duty lineup, and that makes it one of the toughest trucks available anywhere in the world today—but how much can a Ford F-750 tow? In order to calculate the Ford F-750 towing capacity for your model, you'll need to subtract your vehicle's total…

The 2022 Chevrolet Silverado 1500 LTD has everything that Chicago and Madison drivers are searching for in a new pickup! Although an all-new 2022 Silverado is expected later this spring, the 2022 Silverado 1500 LTD is a great choice for the contractor or fleet operator who needs impressive capability today. Our comprehensive overview of…

The 2022 Ford Maverick towing capacity varies between 2,000 and 4,000 pounds, depending on the powertrain and packages that you select for your adventures in Chicago and Madison. Even though the Maverick is a small truck designed with city living in mind, it's more than capable of powering weekend road trips and memorable getaways….