2020 Isuzu NQR Specs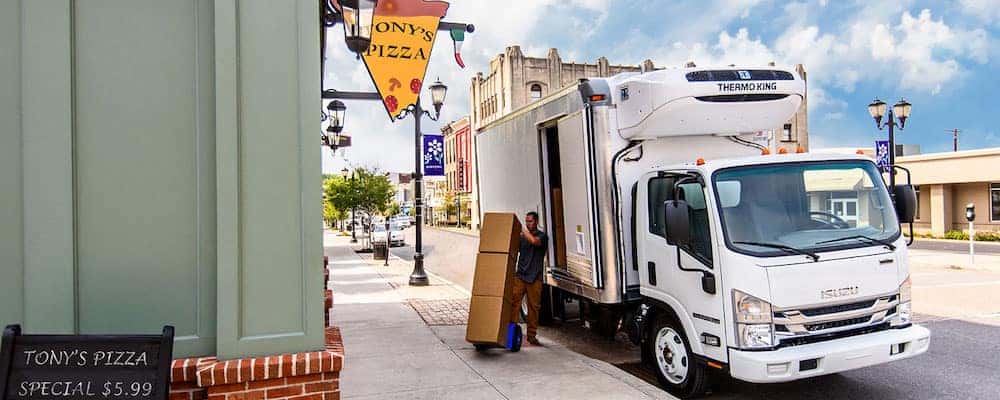 Street sweepers, refrigeration trucks, landscaping dump trucks, and much more — the versatile medium-duty Isuzu NQR's specs offer the ability to configure to the needs of your business! Whether you own a small business or run an entire fleet, you need reliable trucks that deliver the goods and reduce your operating costs. Isuzu commercial trucks are popular with Milwaukee and Chicago business owners for their legendary power, fuel-saving engines, and high-quality parts that last. Plus, the cab-forward Isuzu design enhances visibility and handling.
Isuzu NQR Engine Specs
Low-maintenance Isuzu diesel engines can run for up to 10,000 miles between oil changes, saving you precious time and money as you head from job to job. Even better, those Isuzu NQR specs are guaranteed up to 310,000 miles.
Standard on the NQR is a 4HK1-TC turbocharged diesel engine that uses electronic high-pressure common-rail direct injection and a water-cooled EGR system. Here's a look at the specs:

Diesel 5.2L I4 Turbocharged Engine
215 hp @ 2,500 RPM
452 lb-ft of torque @ 1,850 RPM
30-gallon in-frame fuel tank
6-speed automatic transmission
Vacuum/hydraulic with 4-channel ABS
14.3-inch front disc and 12.6-inch rear drums
Still trying to decide on the perfect Isuzu truck? Start by comparing the NPR vs. NQR with our team of experts.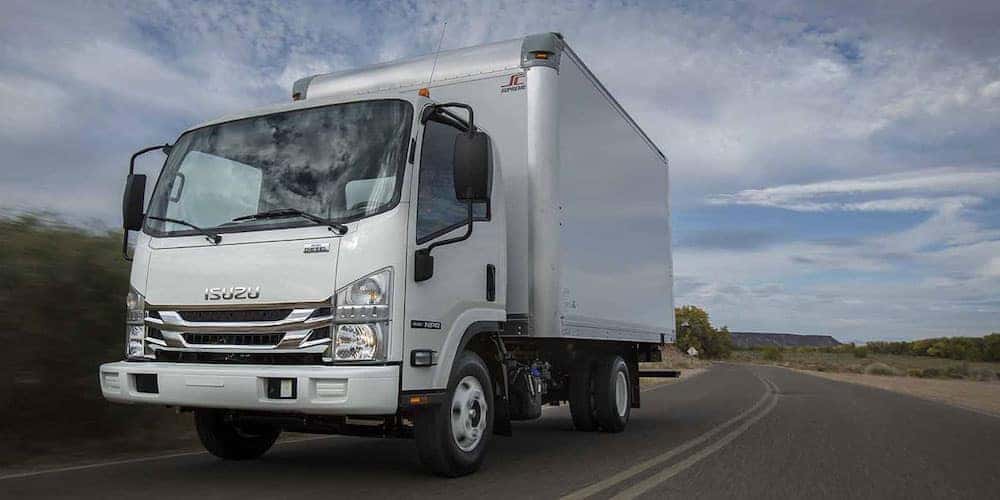 Capability and Capacity Specs
How will your choice of Isuzu NQR weight and cab size impact payload capacity? The standard NQR diesel cab provides seating for three, while the seven-seat crew cab can accommodate a larger team on trips to Madison and Green Bay job sites.
The gross combined Isuzu NQR weight ranges from 17,950 to 23,950 pounds depending on configuration, but that the standard cab offers a wide range in terms of payload capacity:
Isuzu NQR Diesel
Payload: 6,830 to 12,980 pounds
Gross Combined Weight Rating: 17,950 to 23,950 pounds
Isuzu Crew Cab Diesel
Payload: 10,680 to 10,748 pounds
Gross Combined Weight Rating: 17,950 to 23,950 pounds
Find a Reliable Isuzu Commercial Truck in Milwaukee
Explore the 2020 Isuzu lineup online or in person at Badger Truck & Auto Group, and don't hesitate to connect with our team or explore our new vehicle specials today.
We're also happy to tell you more about the Isuzu Vehicle Health Report that you'll get with every N-Series Isuzu truck, which will allow you to monitor engine components and diagnose service issues well before they impact productivity.
More About Isuzu Vehicles
You work hard in your business, and you know that excess waste, whether it's related to your product or potential fiscal excesses, can create operating issues. So it's no surprise that you're looking for a truck that runs as efficiently as you run your commercial operation! When searching for a fuel-efficient and capable commercial truck,…

Street sweepers, refrigeration trucks, landscaping dump trucks, and much more — the versatile medium-duty Isuzu NQR's specs offer the ability to configure to the needs of your business! Whether you own a small business or run an entire fleet, you need reliable trucks that deliver the goods and reduce your operating costs. Isuzu commercial trucks…

As the best-selling low cab forward truck since the 1980s, the Isuzu NPR has always set the standard for the modern commercial truck. Now in 2019, the new Isuzu NPR specs continue a long legacy of excellence with incredible towing chops and state-of-the-art engine power. Whether cruising through Chicago or Madison, you'll enjoy outstanding visibility…