Why a Use Flatbed Truck with Stake Sides?


First, let's talk about flatbed trucks. New or used flatbed trucks are easily recognized by their wide and open beds, which can accommodate massive weights depending on the truck's size and axles. These beds have no barriers or roofs to hinder your ability to load and unload the truck. While this is helpful in some cases, in others, support is needed to keep materials, machinery, etc. secure. Read on to learn more about flatbed stake sides and why they're good investments for Chicago truck drivers.
---
What are Stake Bed Sides?
Stake sides are usually made of rigid and durable material, such as steel with a powder coating. You can find them in a variety of lengths — typically anywhere from 9 to 24 inches. When you need to transport oversized or oddly shaped cargo, stake bed sides are a safer and more efficient alternative to other securing devices, such as chains, straps, hooks, ropes, clamps, latches, etc.
---
What are the Uses of Stake Bed Sides?
There are many uses! Compared to trailers, flatbeds are much more versatile, especially with the added benefit of stake sides. Stake bed sides are removable, so you can detach them anytime they're not needed. Here are a few common uses for stake body trucks:
Construction: hauling tools, building materials, and heavy equipment, as well as transporting items to different job sites
Agriculture: hauling timber, produce, seed, hay, feed, livestock, and farming equipment
Automotive: hauling car parts and flattened cars or bikes
Additionally, stake sides make it easier for drivers to comply with FMCSA (Federal Motor Carrier Safety Administration) regulations when it comes to hauling items like concrete pipes, heavy machinery, metal coils, and more.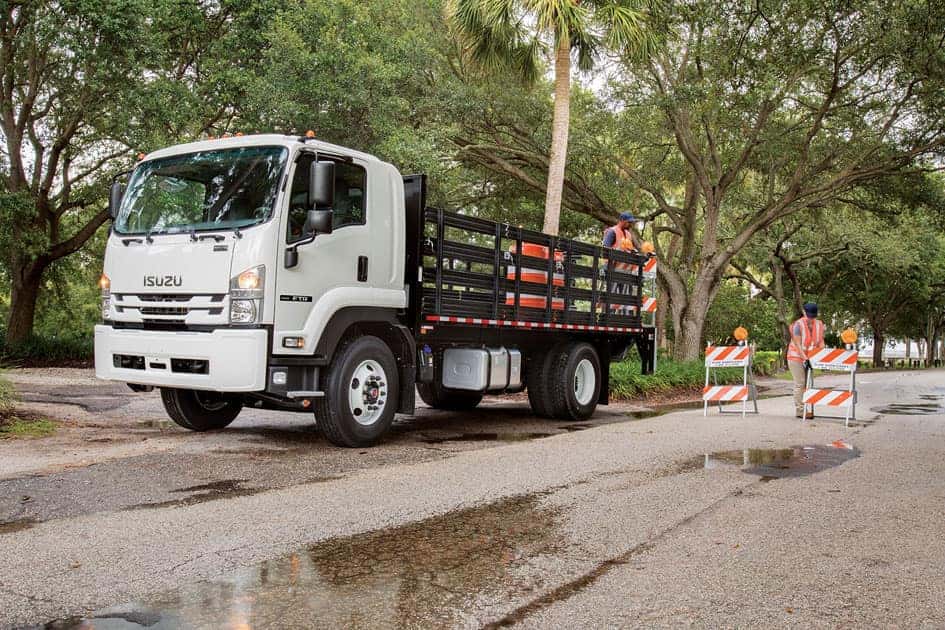 ---
What are My Options for a Flatbed with Stake Sides?
You can find a stake body truck in light, medium, or heavy duty configurations — or convert one with compatible stake sides. Different job applications require different strengths and maximum capacities. Three of the most popular chassis trucks that can be converted in stake bodies are the Ford F-350, Ford F-450, and Ford F-550. With its 6.7L V8 diesel engine, the F-550 chassis truck has a 31,900-pound fifth-wheel towing capacity.
---
Learn More at Badger Truck & Auto Group in Milwaukee!
Do you have additional questions about flatbed stake sides and their uses, or do you want to schedule a test drive with a heavy-duty chassis truck? Contact us at Badger Truck & Auto Group! We can answer your questions about truck parts, our vast inventory, or help you schedule an appointment near Madison and Green Bay.
---
More From Badger Truck & Auto Group
Are you eager for the arrival of the Ford F-150 Hybrid? You should be. This efficient and high-powered alternative to traditional gas-powered pickup trucks is already setting the stage for a massive change in the nation's most popular vehicle segment. Our guide to the 2021 F-150 Hybrid specs can tell you exactly what to expect…

The 2021 Silverado 1500 towing capacity maxes out at 13,300 pounds. This year's model is tougher and stronger, and increased towing capacities for its diesel and four-cylinder engine options make its impressive power more accessible than ever before. Although you'll still need the optional 6.2L V8 and the optional Max Trailering Package to reach the…

The new Ford F-450 Super Duty remains one of the strongest heavy-duty pickup trucks available today, and the new Ford F-450 Chassis Cab is a force to be reckoned with in its own right! We've covered the 2021 Ford F-450 specs in detail, so you can choose the perfect model for your Chicago and Madison…